Our Mission Statement
Provide a sustainable pipeline of appropriately informed and prepared individuals to support the needs of business and industry in Washington County.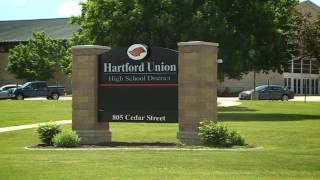 1. 450 teachers, administrators and guidance counselors have toured manufacturing and health care sites to better understand the modern workplace and the skills needed.
2. Employer reps have toured the four school districts to gain a greater understanding of the curriculum and programs in place to support employer needs.
3. Since 2015 the College and Career Fair has giving over 1100 members of the combined Junior classes an opportunity each year to meet with representatives from employers, technical colleges, universities, trades people and the armed forces. The objective of the event was to provide an opportunity to better understand career options available in Washington County, the skills required and the resources available to obtain those skills.
Future plans:
1. Workplace tours for students.
2. Outreach to parents
3. Identifying opportunities for partnerships between employers and schools and employers and social/human service agencies
4. College & Career Fairs are an annual event.
5. Gaining a better understanding of employer hiring issues and developing programs to address.
6. Determining appropriate outreach and involvement at the middle school level.